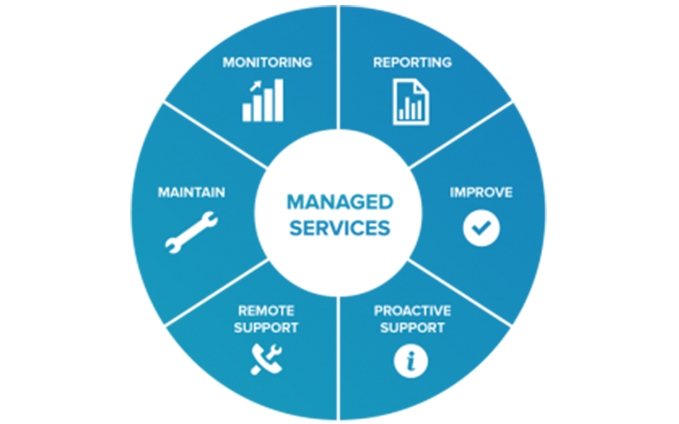 When is it time to hire a Managed IT Service Company?
Every day, Americans embark on new business ventures. When the company first starts out, often one of the founders ends up being the go to person. I cannot tell you how many times I've been to consultations where one of the founders or managing members is fed up, dealing with IT issues all day long.
That leads us to an important question, the reason you are most likely reading this, when is it time to hire a Managed IT Services company? Surely, a business owner can handle the IT needs of the company for some time, but at some point it's time to hire a Managed Service Provider to take care of the office IT needs. A managed service provider can help a business excel, giving that company the resources they need to expand.
Here are some tell tale signs that it's time to hire a IT Managed Services company such as TekHattan:
1. Owners spend too much time dealing with IT Issues
Time management is important for any business owner. In order to excel, you need time to actually grow the business. With so many tasks including new client acquisition, employee management, and maintaining existing client relationships, how much time do you really have for IT?
Your time would be put to much better use by letting a Managed IT Services company handle your Information Technology. If you are spending more than 10% of your time working on IT issues, it's time to outsource the ever increasing task of IT.
2. One or more botched IT roll-outs occur
Technology surrounds us today. There is so much new tech coming out every day, and it can be confusing for a business owner to try and implement all these new technologies and services available. Many business owners learn that implementing new technologies into a growing company can be a daunting task. There are many tasks that go into a new tech roll-out including research, planning, and implementation. Without proper experience in technology administration, botched roll-outs are common.
The amount of time, effort, and money that goes into a botched roll-out can be devastating for a growing company. Hiring a Managed IT Services company to research, plan, and implement any possible technologies is crucial. Furthermore, an experienced IT Managed Services Company will help your business stay on the edge and keep you informed of new technology that will help your business succeed.
3. You have no disaster recovery plan
Data means everything in this day and age. Just think, all or most of your business data is likely on a computer or on the cloud. What would you do if said computer or cloud were to crash or hard drives were to fail. Losing crucial business data including emails, financial records, or project notes can doom a small business. With such important data at stake, the importance of a disaster recovery plan cannot be understated.
A Managed IT Service provider will make sure your company data is backed up on a regular basis. With proper backups and disaster recovery plans in place, you will sleep sound knowing your data is safe. Unfortunately, some clients don't reach out to us until they experience some type of disaster in which important data is lost forever. Don't let that happen to your company.
4. You lost track of how many computers you have
As a business expands and grows, they end up with an increasing number of computers and electronic devices. It is important to know which employees possess what equipment. If you are not keeping track of your tech inventory, you are putting your data at risk. In the case of an employee termination, you need to ensure you retrieve all assigned electronic equipment.
A Managed Service Provider will keep an inventory of all your tech equipment. They will be able to recycle inventory after an employee leaves and a new one joins the team. They can also help ensure all equipment is returned when an employee leaves or is terminated.
5. You are unsure if you are in compliance with regulations
While you may be able to skate by for some time out of compliance, as your company grows you are more at risk of audits and the potential for massive fines for non-compliance. Many industries have strict guidelines and regulations for how data should be stored and protected, especially for businesses in the Medical and Financial fields.
A seasoned Managed IT Service company will help keep you in compliance with government regulations as your business grows.
Closing Remarks
Many business owners think they can skate by with their current setup. Sure, many can actually skate by with their current setup. However, one must consider how a disaster will affect their company. But, the most important reason for hiring a IT Managed Services company is to save your own time. We all know, time is valuable. Wouldn't you be better off dealing with business matters instead of technology headaches?
---