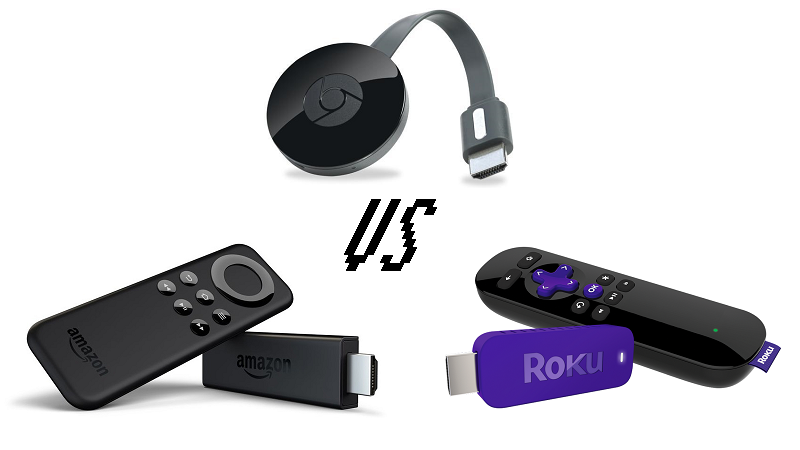 Streaming devices are all the rage in recent years. I remember when the Chromecast first came out. Everybody wanted to get one.
The Chromecast allowed you to stream video from your phone or laptop right to the television. While the Chromecast may have been one of the first streaming devices to the market, the device is no facing increasing competition.
The Firestick, Chromecast, and Roku all have their advantages and disadvantages. In all honesty, one is not better than the other. Instead, the Roku will be best for some while the Fire Stick is the best choice for others. For somebody looking for simplicity
However, there is one fatal drawback to both the Fire Stick and Choromecast that is not present on the Roku. If you care about using Google Services on your streaming device, that is not possible on the Firestick. Likewise, if you'd like to enjoy Amazon Prime Video, that is not possible on the Chromecast. In other words, if you want a truly open streaming device, with more apps available, the Roku is your best option.
Without further ado, let's take a look at our comparison of the Roku vs Firestick vs Chromecast.
Roku vs Firestick vs Chromecast – Basic Comparison Chart
| Specification Compared | Roku | Firestick | Chromecast |
| --- | --- | --- | --- |
| Best Use | All around power house | Amazon Prime Video | Screen mirroring (Android) |
| Feature Rating | | | |
| Value Rating | | | |
| Price Point | $39 – $99 | $38 to $114 | $35 to $69 |
Some may wonder why the Chromecast and Firestick have received such low ratings. It's simple, these devices restrict consumer choice.
Instead of trying to reinvent home entertainment for the benefit of the consumer, Google and Amazon have been busy trying to keep each other off their respective platforms.
The Roku allows full consumer choice. Roku does not directly sell content. Instead, the company focuses on building quality hardware. Roku allows content from Google, Amazon, Netflix, and even Xfinity. Yes, you can replace your Xfinity set top box with a Roku device (although you still need to pay for a minimum of one set top box from the cable company).
There has been some chatter about Amazon and Google ending the content war and allowing content on each other's video devices. However, that may never happen. Even if it does, who's to say that they will not resume their battles.
Everyone's motive varies, but one of the primary reasons of getting  a digital stream box is to "cut the cord" and stop allowing the cable companies to monopolize entertainment. What Google and Amazon are doing with their respective streaming devices is no different than the cable companies.
Roku Apps Available (Streaming and Live TV)
The Roku has the best selection of apps among the streaming devices by far. As mentioned in the previous paragraph, Roku is not selling content directly. The company instead has decided to focus on providing the best consumer experience. We have compiled a list of Roku apps below
Streaming Video Roku Apps
The Roku has all the streaming apps available that you will ever need. Check out the list below:
Netflix
Amazon Prime Video
Google Play Video
Crackle
YouTube
 HBO Go
 Hulu
 FandangoNOW
Showtime
CBS All Access
PlayOn
Plex
Twitch
Starz
CuriosityStream
Vudu
Roku Channel
DC Universe
Roku TV Apps
The Roku not only allows streaming on demand video, but also has Live TV Apps available:
Xfinity
Sling TV
Hulu with Live TV
Playstation Vue
FuboTV
Youtube TV
Philo TV
NewsOn
Haystack TV
CBS Live News
Pluto TV
Firestick Apps Available (Live TV and Streaming)
The Firestick has a much smaller selection of applications when compared to the Roku hardware lineup. As mentioned earlier, Amazon's goal is for the consumer to use Amazon services. However, there are some third party applications available. Check out the Firestick apps list below
Firestick Apps (Streaming Video)
The Firestick has a limited selection of streaming video apps available:
Netflix
Amazon Prime Video
HBO Now
Hulu
Crackle
Amazon allows the Sling TV application on the firestick.
Chromecast Apps Available
Chromecast works differently than the Roku and Firestick devices. Instead of relying on the Chromecast for a dedicated GUI, the device allows you to select what you want to watch on your smartphone. The smartphone than allows you to "cast" the content to your Chromecast device.
This makes the Chromecast the best choice for those who will use limited apps and do not want to fumble with a traditional controller. See below for a list of Chromecast apps:
Chromecast Apps for Streaming Video
We have compiled a list of apps that are compatible with casting:
 Netflix
Hulu
Showtime
HBO Go
Google Play Movies
Chromecast Apps for Live TV
Chromecast has a better selection for Live TV applications than the Firestick. However, the Roku still has the best app selection in this area:
Sling TV
Youtube TV
Playstation Vue
CBS
HGTV Watch
ABC
---