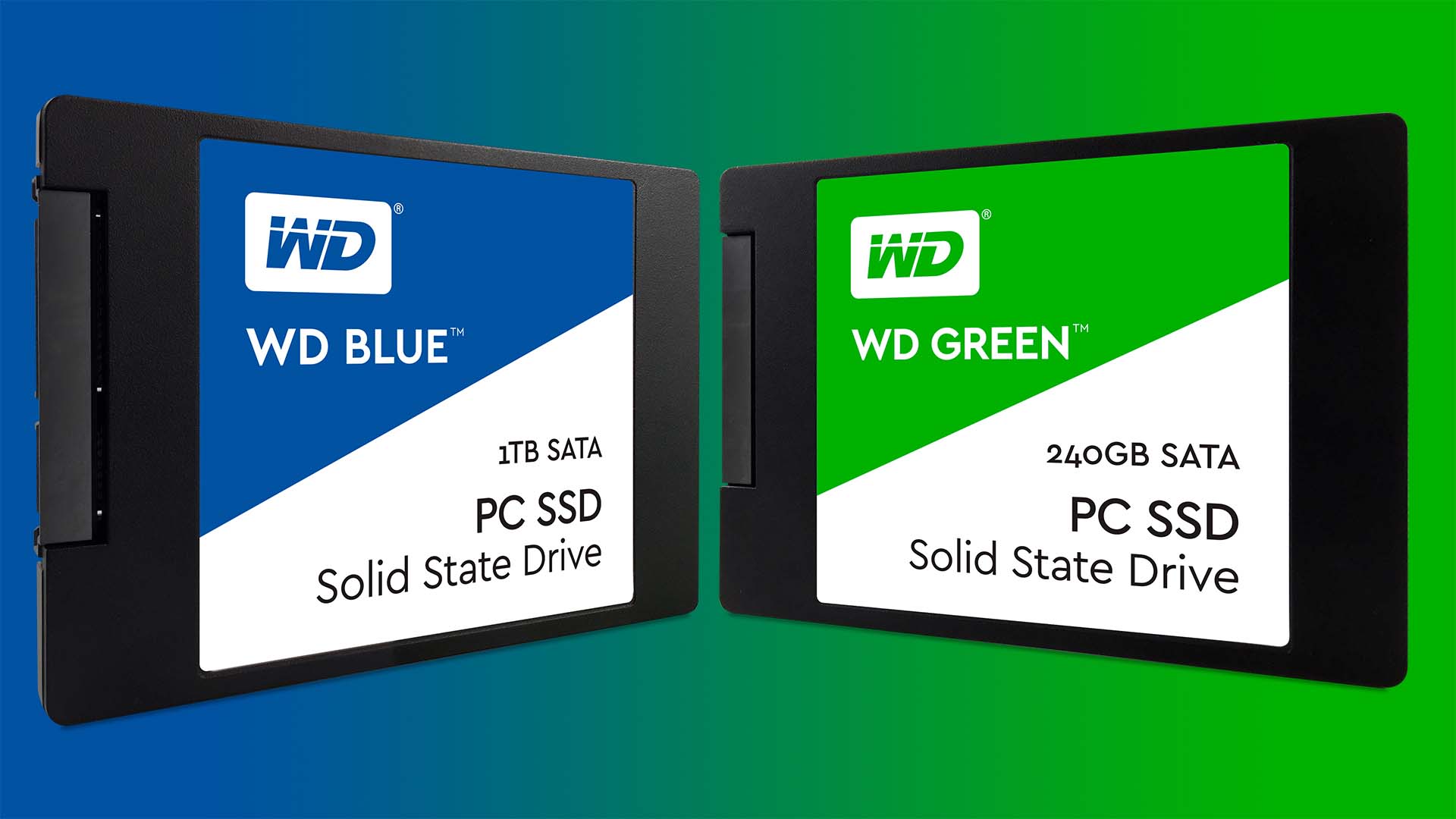 Introduction
The SSD competition has heated up over the course of the last few years. For the longest time, the solid state drive
space was dominated by Samsung. With falling NAND prices, several other competitors including Western Digital have been
able to enter the market.
Western Digital has two consumer grade sata SSD drives, the WD Green solid state drive, and the WD Blue solid state drives. When shopping for consumer hardware, price should not be the only deciding factor. While saving money is always
a plus, inferior hardware can lead to data loss.
In this post, we aim to cover the differences between the WD Blue SSD and the WD Green SSD. We have provided a cheat
sheet, technical specifications, and some text highlighting the key differences below.
This article covers the WD Blue vs Green Sata SSD's only.
If you are looking to compare the WD Blue vs Black vs Red vs Purple HDDs click here
If you'd like to compare and contrast SSD vs HDD drives, we covered that here
An NVMe m.2 SSD can provide speeds up to 10x that of a SATA SSD drive, you can read our review here

Cheat Sheet: Which WD Solid State Drive to Buy
For Extensive PC Use: WD Blue SSD
Starting Price: $34.99

The WD Blue is the best 2.5 inch SSD made by Western Digital. This solid state drive is a
great option for Video Rendering, Photo Editing, or Gaming. For a few more dollars, the Western Digital Blue Sata SSD is a better option for reliability with a reliability rating of 1.75 million hours vs 1 million hours from the WD Green counterpart.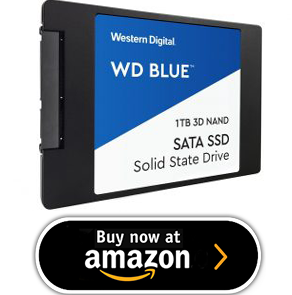 For Basic PC Usage: WD Green SSD
Starting Price: $33.45

The WD Green SSD is a step above the standard grade consumer hard disk drives. The Green series should not be used for extensive purposes. In fact we advise against purchasing this drive unless you are
really on a budget.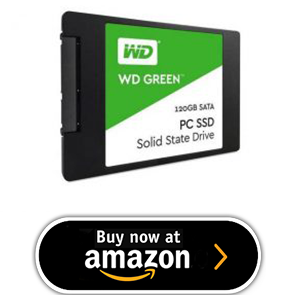 WD Blue vs. Green SSD Basic Comparison Table
| Specification Compared | WD Blue SSD | WD Green SSD |
| --- | --- | --- |
| Intended Use | Extensive PC Usage | Basic Computer Usage |
| Performance Rating | | |
| Value Rating | | |
| Price Point | $34.99 – $369 | $33.45 – $179.99 |
| Sizes Available | 250GB, 500GB, 1TB, 2TB, 4TB | 120GB, 240GB, 480GB, 1TB, 2TB |
In the table above, we have demonstrated the basic differences between the two drive series. As you can see, there is
not much of a price difference between the two solid state drive lines.
There is a noticable performance difference between the two drives however. The Green series should only be used for
basic computing. Not only will one be limited by the performance of the Green drive, but they are also risking their
data.
It is recommended that even users who only intend on using the computer for basic tasks purchase a Blue drive due to the
greater reliability and performance. This is especially apparent with the very small price difference.
Key Technical Differences: Western Digital Green vs Blue SSD
| Specification Compared | WD Blue SSD | WD Green SSD |
| --- | --- | --- |
| Capacity Range | 250GB, 500GB, 1TB, 2TB, 4TB | 120GB, 240GB, 480GB, 1TB, 2TB |
| Sequential Read Speed | 560 MB/s | 545 MB/s |
| Sequential Write Speed | 530 MB/s | 430 MB/s |
| Form Factor | 2.5 inch | 2.5 inch |
| Interface Speed | 6 Gb/s | 6 Gb/s |
| Warranty Period | 3 years | 3 years |
| Operating Temp | 0 to 70 Celsius | 0 to 70 Celsius |
| Reliability (in hours) | Up to 1.75 Million hours | Up to 1.0 Million hours |
As you can see from the table comparison above, there does not appear to be a lot different between these two drives.
If one looks closely, they will notice there is a major difference in reliability. Some may question why this is important.
Think of it as the drive quality. With such a little price difference, would you prefer to purchase a drive with nearly half the rated lifespan of the other? When it comes to hard drives, it is best to keep your data secure. After all, drive failures typically occur without notice.
The reliability rating determines how long the drive will last. The WD Blue Solid State Drive is rated to last 75% longer than the Green SSD.
If you do not intend on storing important data on your new drive, then perhaps the few dollars saved are worth it. In the long run, most would rather spend the few extra dollars for a better quality drive.
Intended Purpose for WD Blue SSD:
(Best option for power users)
The WD Blue SSD is the drive to purchase for those looking to store important files, use extensive programs that will put stress on the drive, or are looking for better reliability.
With a lifespan rated 75% higher than the Green series, it is hard to argue against spending a little more for the better quality. As evident in the table above, the WD Blue Drive is of a better quality and will have a lower failure rate than the Green drive.
WD Green SSD Best Uses:
(Occasional usage, basic desktop computing, non-critical
files)
The Western Digital Green drive does have its uses. If a user does not care about the data stored on the drive, it maybe worth saving a few extra dollars. One who decides to purchase this drive should not be running resource intensive programs.
This drive is meant for use in basic applications only. Keep in mind that this SSD series was made with the lowest cost possible. This means that there are lower quality parts uses in the Green series and therefore has a higher risk of failure.
Even if one does not care about the data on the drive, the hassle and long term costs of replacing the drive surely outweigh any cost benefit during the initial purchase. We strongly discourage the use and purchase of this drive when possible.
Wrapping Up: WD Blue vs Green SSD
The point of this post was to briefly outline the differences between Western Digital's 2.5 inch solid state drive offerings. As you can see above, WD made great strides to enter a competitive market and offer a drive at the lowest price point possible.
One must wonder what the benefit would be to purchase a drive rated to last 750,000 hours less than another, for only $10.
Surely the consumers looking to spend the least amount of money possible may be lured into buying the WD Green Drive. We would never recommend the Green series vs the Blue Series to our clients. One is best suited to spend a few extra dollars on a drive rated to last 70% longer.
---